Used Hot Tub Delivery in Scarborough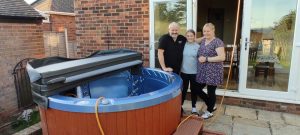 They don't get much tighter than this!
We delivered a pre owned tub to Mike and his family today in Scarborough. Access was tight to say the least!
With a bit of pushing and a shoving (and the loan of Mike's boiler suit) the tub was put into place and the hose pipe rolled out to get it filling ready for the birthday party on Friday
Happy Tubbin!