New Vegas Hot Tub Delivery – Scarborough
Steve and Charlotte were in the market for a new hot tub and we met and discussed their options. The supply of a new tub to them meant dealing with 2 large hurdles.
---
Hurdle 1. – No Access – there was no access to the property to get the tub in so the only option was a crane over the house. They live on a very busy road and the reach required to get the tub over the house was in excess of 30 metres!
Hurdle 2. – once the tub was in the garden, it needed to be moved up quite a steep incline to its final position at the top of the garden.
---
We always like a challenge at Seaside Hot Tubs so we enlisted the help of our sister company  – The Hot Tub Mover to help get the tub craned in and then up the garden into position.
Task 1 – Crane Lift In – this was organised and a massive 60metre crane was used to lift the tub in a few days before the hot tub installation took place.
---
Task 2 – Move Tub up the garden – both Hot Tub Mover teams were drafted in to sled the tub up the garden. 15 mins after arrival, the tub was where it needed to be and team 2 were on their way to Hull for their 2nd job of the day.
Cody and Dan were left to complete the install in Steves' beautiful handbuilt bar/hot tub gazebo.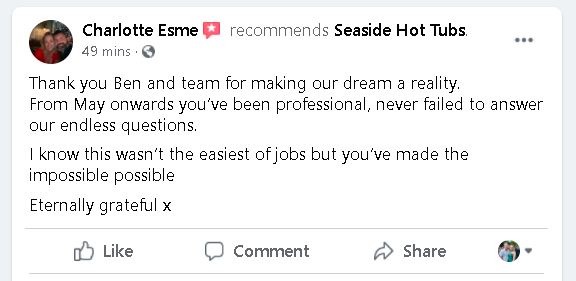 The Vegas Hot Tub looks fantastic in position and we hope you really enjoy using the tub.
New Vegas Hot Tub Delivery – Scarborough