Hot Tub Insulation
Bespoke Hot Tub Insulation Service
With the rise in energy prices and the colder weather, ensuring your hot tub is as efficient as possible is key to keeping the running costs as low possible.
An excellent way to improve the efficiency of your tub is to ensure the tub is as well insulated as possible. The cover that sits on the top of the tub provides a certain amount of insulation however what about the side and the corners? 
These 2 pictures explain the problem. This is my tub at home and I decided to check the temperatures of the side panels - i.e how much of the heat from the water in the cabinet was being transferred out to the panels resulting in the heat being drawn away from the water. My digital thermometer shows a massive 7 degree drop pre and post insulation which means the heat was being retained much more effectively after insulating the tub.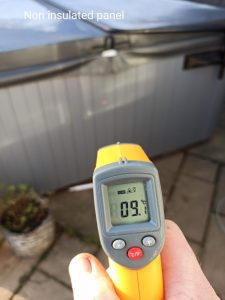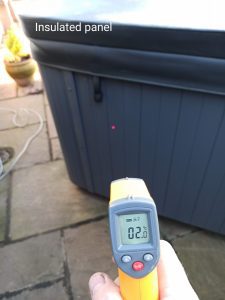 Our hot tub insulation service will insulate your tub and provide tangible savings on your electricity bill - paying for itself many time over. Some examples of the potential saving are shown below.
£1 per day saving = £365 per year saving
£2 per day saving = £730 per year saving
(Will also lower noise levels from pumps.)
The insulation job takes a couple of hours and we will require access to all 4 sides of the tub to remove the panels and insulate the side. 
The base price included travel up to 60 Miles from YO12.  Please select the option for additional mileage charges relative to your postcode at checkout. 
Please contact us for a price for travel >150 Miles. Thanks