Swim Spa Delivery – Isle of Wight
Luke and Mark put their hands up for a swim spa delivery to the isle of Wight this week.
Customer Andy had purchased a used Aquasport Swim spa from us.  This is a very large spa  over 5 metres in length and over a metre deep.
Our challenge was to get it down to Southampton, across on the ferry, meet a crane and lift it into the freshly prepared pit that Andy had created for it.
We loaded the spa up, got the lads armed with seasickness tablets and off they went on Monday.
Tuesday was delivery day and there was a delay in the crane arriving on site so the lads killed a bit of time with a helicopter flight around the Island arranged by the customer. Jammy B's !!!!
What a fantastic experience they had and the photos show how wonderful it looks from the air.
Back down to earth, task in hand was to lift the spa off the truck and into position. All went very well and this was a fantastic job for us and experience for the lads.
---
We hope Andy and his family enjoy the swim spa and we would like to thank you for your hospitality and sharing the beautiful Isle of Wight with us.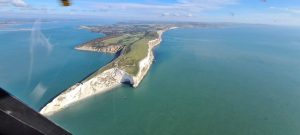 Swim Spa Delivery – Isle of Wight