Used Hot Tub Delivery in Scarborough North Yorkshire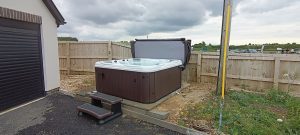 The team were in Scarborough, North Yorkshire this morning to deliver a used Artesian 32amp Hot tub to a fabulous property which has stunning views over the south bay in Scarborough.
The delivery was carried out by our sister company – The Hot Tub Mover – due to tight access for getting the tub in.
The hot tub was positioned on a paved pad and offers the hot tubs users a fantastic view of Scarborough Castle and the bay from the lounger seat.